The handshake murders formed in late 1997 out of Fort Smith and surrounding areas under the name lovelorn. their sound is very original and experimental, having such influences as roadside monument, fugazi, at the drive in, and coalesce. They spent the year of 98 writing songs and developing a sound all their own. in late 98, early 99 they began and finished the recording process, and in June 1999 they released their freshman album entitled "all for the price of rings" on Pluto Records.
after a almost a year of writing songs, lovelorn (the handshake murders) sound has changed drastically, putting them in a kind of math core genre of music. their new trigonometry sound birthed a new name in march 99.. thus is "the handshake murders" in June 2000 they recorded at the red house in Kansas (get up kids, coalesce, the casket lottery..) it is set to be released by the end on November on tree of woe records.
the handshake murders' live show is energetic and emotional. they keep you interested. i can definitely say the the handshake murders present that there is more to do in hard music, and it has not all been done before. it may never be as trendy as korn or the deftones. but it will forever claim a sector of society who breathe the music and live the life.
...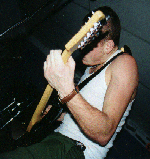 ...